Title: Living on the Inside
Author: Londra Laine
Publisher: Independently Published
Release Date: Tuesday, January 29, 2019
Heat Level: 3 – Some Sex
Pairing: Male/Male
Length: About 55,000 words
Genre: Romance, Single dad, gay romance, interracial, ex-con, domestic abuse, work romance
Synopsis
Micah Grayson lives in his baby mama's guesthouse. It's unconventional and awkward, but he's happy for a chance to reconnect with his teenage son. He doesn't have time for other distractions—no matter how sexy, independent, and compassionate that distraction might be. Besides, he's not good enough for more than a fling—no one would ever take him home to meet their parents.
Adrien Darling has book smarts, but no street savvy—at least that's what his family says. And after a heart-breaking betrayal by the man meant to love and protect him, Adrien believes them. But then a gorgeous guy with a defeated look in his eyes walks into Adrien's coffee shop and makes him want to take a chance. After years of living on the outside as two misfits looking in, both men are afraid to reach for more. But in each other's arms, Micah and Adrien find out what it's like to live on the inside. As their tender bond grows and blossoms, old insecurities bubble to the surface. Will their commitment crumble under the pressure? Or will the two find the strength to fight for each other. ***Please be aware that this book contains a flashback of and several references to domestic abuse that may be triggering to some readers.***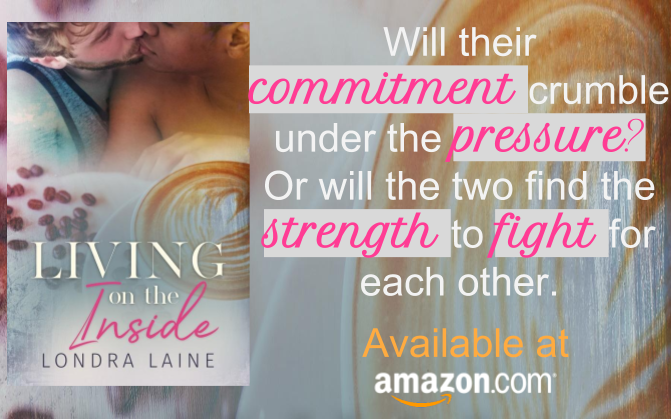 Meet the Author
Londra has loved reading since she figured out how to do it. She writes to give her guys the happy ending she wishes everyone––no matter their race, religion, gender, or orientation––could experience in real life. Londra makes money as a communications manager. She is a former journalist, a runner and a mezzo soprano. In 2010, she moved from her native California to New York City where she lived in Harlem for nearly eight years. In early 2018 she relocated to Seattle with her spouse.
Giveaway
a Rafflecopter giveaway
https://widget-prime.rafflecopter.com/launch.js