Historical Romance (Paranormal)
Date Published:
Jun 16, 2020
A gorgeous psychic. An unwanted betrothal. A tantalizing compromise.
For fans of Anne Stuart, Tessa Dare, Meredith Duran, Diana Gabaldon, and Kristen Callihan.
An independent hellion, a stealer of time, and the only woman who can capture his heart…
Lady Victoria Hamilton has a supernatural gift, a fiancé, and a guardian angel. She just never expected her protector to be the most dazzling man in England, a devilish scoundrel they call the Blue Bastard. Victoria has agreed to marry for duty, not love, but her unforeseen desire for her mystical angel threatens to destroy not only her plans for the future but the armor surrounding her susceptible heart.
A confirmed scoundrel, a mind reader, and the only man she desires…
Illegitimate son of a viscount and reigning king of London's gossip sheets, Finn Alexander has spent a lifetime hiding his ability to read minds behind charming smiles and wicked behavior. No one knows the real man, and he likes it that way. Until he meets the lone woman who sees the man beneath the disguise—a blue-blooded temptress with the power to bring him to his knees.
As they embark on a journey of passion and friendship, Victoria and Finn must decide if they're willing to risk everything for the promise of true, magical love.
Second novel in the tantalizing Victorian paranormal League of Lords series!
Other Books in the League of Lords Series
Release Date: February 18, 2020
In the first in Tracy Sumner's sizzling League of Lords historical series, mysticism in Victorian England is the setting for a captivating love affair . . .
He's a viscount with a dark past who yearns for the one woman he can't have. She's rebellious, spurned by society and determined to change his mind.
What's a defiant woman to do when the man she's meant for doesn't believe in love?
After three years of waiting for Julian Alexander to realize they are destined to be together, Lady Piper Scott takes matters into her own hands. Because her gift as a healer has never done anything but distance her from the most principled man in England. A meaningless diversion as a medium, all done to gain a certain wandering viscount's attention, backfires. As most endeavors have for a woman known in the ton as Scandalous Scott.
What's a reluctant viscount to do when the woman he can't have becomes the woman he can't live without?
Julian Alexander, Lord Beauchamp, battled his way from the lowliest slum to assume his title. He carries not only a turbulent past, but a mystical psychic gift that separates him from society. Honorable to his core, he is committed to protecting a community of outcasts with abilities like his own. He has no time, no place, for love. Or repeatedly rescuing the most outrageous, beguiling woman he's ever known. Even if she needs his protection most—and he desires her above all others.
Seduction, intrigue and desire lead to an explosive passion…
Julian vowed to shield Piper from the deadly foes seeking to possess her powerful gift. Although he needs her help in controlling his own, the mix could be deadly. Soon what was once a simple agreement to work together becomes enchantingly complex as they surrender to a timeless love…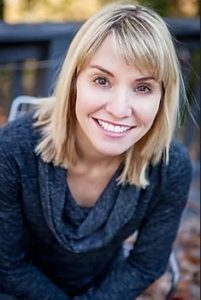 Tracy's storytelling career began when she picked up a copy of LaVyrle Spencer's Vows on a college beach trip. A journalism degree and a thousand romance novels later, she decided to try her hand at writing a southern version of the perfect love story. With a great deal of luck and more than a bit of perseverance, she sold her first novel to Kensington Publishing.
When not writing sensual stories featuring complex characters and lush settings, Tracy can be found reading romance, snowboarding, watching college football and figuring out how she can get to 100 countries before she kicks (which is a more difficult endeavor than it used to be with her eleven-year-old son in tow). She lives in the deep south, but after spending a few years in NYC, considers herself a New Yorker at heart.
Tracy has been awarded the National Reader's Choice, the Write Touch and the Beacon – with finalist nominations in the HOLT Medallion, Heart of Romance, Rising Stars and Reader's Choice. Her books have been translated into German, Dutch, Portuguese and Spanish. She loves hearing from readers about why she tends to pit her hero and heroine against each other and that great novel she simply must order in five seconds on her Kindle.
Instagram: tracysumnerromance