The Psychopath and the Girl in Black Prada Shoes, Part I
Fiction, Drama
Publisher: Xlibris
Mary, is an established woman. Her lifespan is a petrifying mess. This is about dating a truly creepy sociopath, one who swindled himself through life. A self-absorbed, lying person using people. He presents himself with a public persona of normalcy. She could not see what lay behind the dark shade of Drake Lucifer Bates. He was inappropriately flirting with her; he was a doctor and she was his patient. During a treatment session, he goes too far. Does he get hard when he treats patients? It was too late for her to escape.
Unintended she becomes captured in his mean spider web. Drake won her compassion with his enormous intellect and glimmering charm. Something vastly magical happened around him. She begins a passionate love affair with him. Their life seemed blissful on the outside. Behind his malicious plan, it was chilling.
Trusting him with her fragile life, she don't see he is like Dr Jekyll and Mr Hyde. Believing him was fatal. Swindle wealthy patients, was his primary target. His manipulative behavior and scams, ends disastrous for Mary. She is a character in his horror movie. He sinks into his mania of deceives and lies. He is a predator! She don't know anything about psychopaths. How does she figure out what she can expect from such people? Her life was never the same, but she learned from his evilness.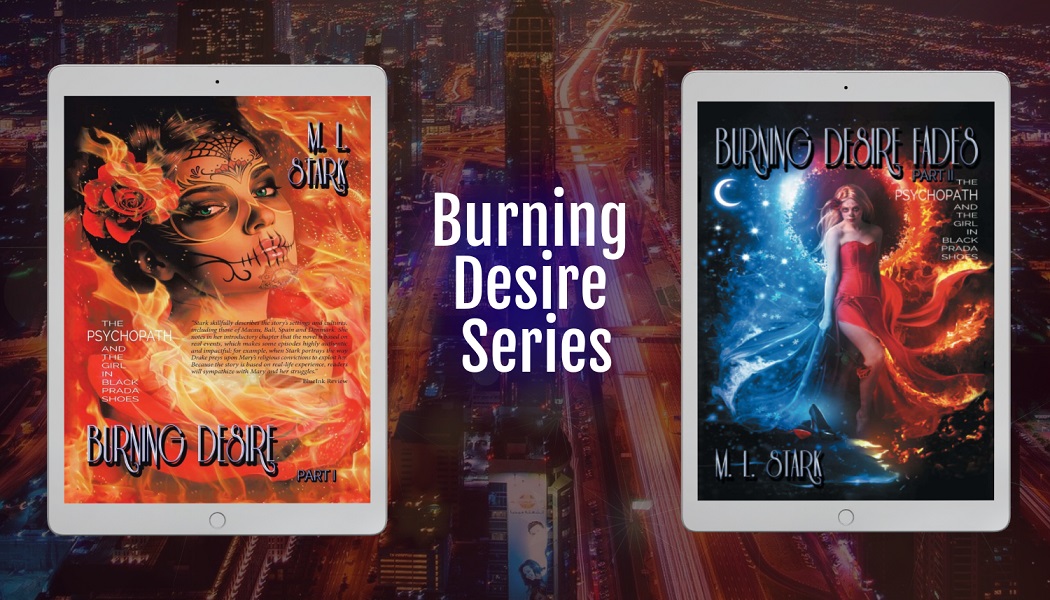 Other books in the Burning Desire Series:
Burning Desire Fades
The Psychopath and the Girl in Black Prada Shoes – Part 2
Publisher: Xlibris
Part 2 presents the continuation of the maliciously agenda of Doctor Bates and will leave you in a trance of shock with its vigorous narrative. A moment ago, it seemed, it was yesterday full of happiness. Tomorrow it is a matter of survival for Mary as her life is on the brink of insanity to her Knight in Shining Armor. Loving him was all she ever had.
As she meets Drake again she becomes a slave in the madness of love. Before Mary notice the dangerous life, she gets deeply trapped in Drake's dodgy mesh. It's too late for her to escape. Fraud, lies, dominance, torment and the complexity of an abusive relationship evolve, and will unexpectedly be a new part of Mary's life. Drake's sinister betrayal sneaks slowly in as he lures Mary like a ravenous wolf in sheep's clothing.
Mary will experience love, hatred and deception; however, will she continue to be Drake's victim in his mystiques and hefty deceptions he gets during the nights? On the outside, it seems Drake is loving and has a high IQ, above normal. On the inside, he is a devious psychopath. The story will drastically unfold to a complexity of a love drama, crime, fraud and Drake's delusions of grandeur.
At a secluded area outside Hong Kong, the mafia attempt to kill Drake. We will follow the two sweethearts in how they try to escape from the difficulties with the Asian Mafia. With lightning speed, three creepy guys and the mafia boss run into the Hotel to search for Drake.
Not only once, but several times the two lovebirds are on the run in the shadowy darkness of the night, because Drake steal and frauds his business associates.
About the Author
"I am telling the story not of what I thought I was meant to be born into, but as the survivor I have become after abuse. I am also hoping to connect with people and deter them from facing a toxic relationship in their lives by sharing my own real-life events." Stark says.
M. L. Stark dares to discuss what it is like to be in an abusive relationship, and shows the power in embracing the experience, prevailing and ultimately recovering from the abuse, escaping the psychopath and helping others tap into their empathy and prevail over similar hazards.
Contact Links
Purchase Links