🖤 ℍ𝕆𝕋 ℕ𝔼𝕎 ℝ𝔼𝕃𝔼𝔸𝕊𝔼 🖤
𝐃𝐨 𝐍𝐨 𝐄𝐯𝐢𝐥, 𝐛𝐨𝐨𝐤 𝟒 𝐢𝐧 𝐓𝐡𝐞 𝐒𝐨𝐜𝐢𝐞𝐭𝐲 𝐬𝐞𝐫𝐢𝐞𝐬 𝐛𝐲 𝐈𝐯𝐲 𝐅𝐨𝐱 𝐢𝐬 𝐇𝐄𝐑𝐄!
𝐏𝐮𝐫𝐜𝐡𝐚𝐬𝐞 𝐭𝐨𝐝𝐚𝐲!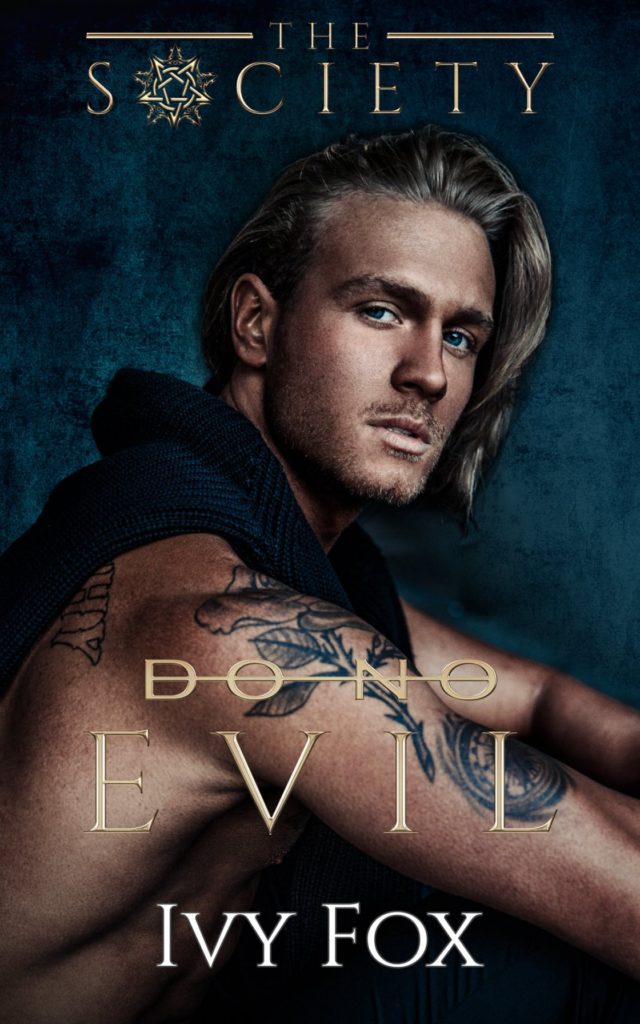 BLURB
𝐓𝐡𝐞 𝐭𝐢𝐦𝐞 𝐟𝐨𝐫 𝐠𝐚𝐦𝐞𝐬 𝐢𝐬 𝐨𝐯𝐞𝐫.
𝐅𝐨𝐫 𝐭𝐡𝐞 𝐝𝐚𝐲 𝐨𝐟 𝐫𝐞𝐜𝐤𝐨𝐧𝐢𝐧𝐠 𝐡𝐚𝐬 𝐟𝐢𝐧𝐚𝐥𝐥𝐲 𝐚𝐫𝐫𝐢𝐯𝐞𝐝.
𝐓𝐡𝐞𝐫𝐞 𝐢𝐬 𝐧𝐨 𝐚𝐭𝐨𝐧𝐞𝐦𝐞𝐧𝐭 𝐟𝐨𝐫 𝐬𝐢𝐧𝐧𝐞𝐫𝐬.
𝐎𝐧𝐥𝐲 𝐝𝐞𝐚𝐭𝐡.
𝗟𝗶𝗻𝗰𝗼𝗹𝗻
I'm in love with a beautiful monster,
a vengeful soul who hides in plain sight.
But now it's too late for redemption.
The Society demands their pound of flesh.
And she's come to give it to them.
𝗞𝗲𝗻𝗻𝗲𝗱𝘆
All evil men must perish.
The heart has no say on the matter.
It never did.
*Do No Evil is a New Adult College Romance and the last book in The Society series.
*All four full-length books in this series have an intertwined subplot, which will be resolved in this book.
Add to your Goodreads TBR
➜
https://bit.ly/DNE-GR
PURCHASE LINK
Universal link:
books2read.com/DoNoEvil-TheSociety
Catch up with the series!
See No Evil:
𝐛𝐨𝐨𝐤𝐬𝟐𝐫𝐞𝐚𝐝.𝐜𝐨𝐦/𝐒𝐞𝐞𝐍𝐨𝐄𝐯𝐢𝐥-𝐓𝐡𝐞𝐒𝐨𝐜𝐢𝐞𝐭𝐲
Hear No Evil:
books2read.com/HearNoEvil-TheSociety
Fear No Evil:
https://books2read.com/FearNoEvil-TheSociety
Speak No Evil:
books2read.com/SpeakNoEvil-TheSociety
GIVEAWAY
To celebrate the release of Do No Evil, Ivy Fox has a giveaway up for grabs! Enter to win a signed copy of The Society Series:
http://www.rafflecopter.com/rafl/display/c5ec31982/?
ABOUT THE AUTHOR
Lover of books, coffee, and chocolate ice cream!
Ivy lives a blessed life, surrounded by her two most important men—her husband, and son, and the fictional characters in her head that can't seem to shut up.
Books and romance are her passion.
A strong believer in happy endings and that love will always prevail in the end.
Both in life and in fiction.
AUTHOR LINKS
Instagram
|
Facebook
|
Facebook Reader Group
|
Website
|
Newsletter
|
Twitter
|
BookBub
|
Goodreads
|
TikTok
|
Pinterest